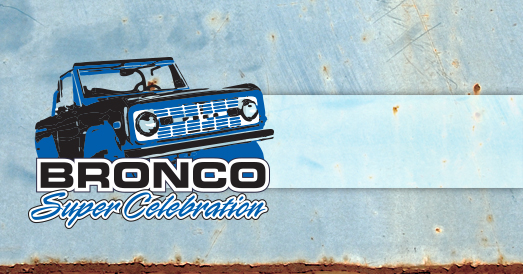 April 18-21, 2018
BRONCO SUPER CELEBRATION
Tally Ho Inn – Townsend, Tennessee
WELCOME TO TENNESSEE
We hope you can join us in the Great Smoky Mountain April 18-21 for the 12th Bronco Super Celebration.
Here is some information and a projected event schedule.
PARKING IN SHOW FIELD – ONLY BRONCOS ARE ALLOWED IN THE SHOW FIELD!
When Parking your Bronco on the show field- please stay in marked rows. Face your Bronco downhill in the row. You should have space for a Bronco, Tent, and space to pass thru. Please have your Parking pass visible to enter the show field each day.
TENTS – You should have space to set up tents behind your Bronco. Please do not set up your tent next to the Bronco as we need all that space for Broncos! Be sure to fasten tents down good. Secure it or remove the canopy at night.
PART SALES – you're welcome to sell products from your Bronco within your space. Use space for Products behind your Bronco. Please do not set up parts, tables beside your bronco or spread out in the show field. If you need more space you will need to move to swap meet area.
SWAP MEET AREA – If you are wanting to sell products but do not have a Bronco registered you will need to purchase a 10 X 20 Swap meet space or a 10 X 50 swap meet space for trailer. These can be purchased in advance on-line. If not pre-registered space will be sold on a first come basis until it is filled. If you need more space you will need to contact us.
DRIVES – All the drives will gather and depart from the Entertainment field located on the West side of the Motel behind the Carriage House Restaurant. Please note the direction for the designated drive as with large groups they can get separated.
TRAILERS – Absolutely NO trailers on the Bronco show field. Use the designated trailer Parking lot located on the East side of show field by the Heritage Center.
DRONES – Drones are welcome – fly with Caution. Please post footage at Facebook/BroncoDriverMagazine
TRASH – Help keep the grounds and area clean.
FRIDAY MEAL – You get 2 meal tickets with your registration package. These can be redeemed at either food truck anytime Friday from 4:30 p.m. to 7 p.m.
SHOW N SHINE – if your registered to take part in the Show N Shine your truck needs to remain in the show field Friday evening between 5 p.m. and 8 p.m. with the Windshield Marker in the window and we suggest you put your hood up.
BRONCO OLYMPICS – Thursday from 6 p.m. – 8 p.m. you can bring your Bronco to the Entertainment field and take part in some fun Bronco games.
RC Broncos – There will be a space for fun with RC Broncos. You can come play in the area as you wish. Organized events are not schedule at this time.
FUTURE EVENTS : Fall Ford Festival Sept 13–15 2018 – Open to all Fords
Duff's, Dinners & Drives Oct 5-6, 2018
SUPER CEL 2019  April 9-13, 2019
Register at show
Schedule of Events
(Subject to change based on road conditions or other factors)
Wednesday April 18
10 A.M. Show Field Opens (Vendor Set up)
NOON. Drive #1 BUSH BEANS MUSEUM – Drive to the Museum, Theatre and even enjoy lunch and snacks at their famous cafe. (Estimate 75 Miles round trip – 4 hours)
8:30 P.M. Opening Bon-Fire
9:00 P.M. Show Field is Closed and Locked to all in or out traffic
Thursday April 19
9 A.M. Show Field Opens
10 A.M. Drive #2 THE DRAGON – Internationally famous road with 314 turns in 11 miles (60 Mile Round Trip – Estimated time 3 1/2 Hours)
11 A.M. – 7 P.M. Food Vendors on Site
NOON Drive #3 LOST CITY OF ELKMONT – It was such a big hit last year we are bringing it back for Those wanting a less challenging ride. 4 new Buildings restored. (30 Miles – 2 hours)
3 P.M. Drive #4 Drive to DUFF's – (50 Minutes each way) James Duff is having an open house from 3 till 7 for people to stop by for treats, tours, and tech. A drive to Duff's will leave Tally Ho at 3.
6 – 8 P.M Bronco Olympics – RTI Ramp, Slow Crawl Challenge, Blindfold Driving and More in Entertainment Field
8:30 P.M. Bon Fire
9:00 P.M. Show Field is Closed and Locked to all in or out traffic
Friday April 20
9:30 A.M. Drive #5 Frank is Back! Leading an adventurous drive – Based on what the park has open. This drive may include gravel, dirt. No damage should be done to Broncos but could be more adventurous terrain.
10 – 8 A.M. Food Vendors on Site
10:30 A.M. Drive #6 TN/NC Overlook (70 Mile Round Trip – (Estimated time 3 Hours)
2:30 P.M. Drive #7 TOUR OF TOWNSEND – Never more than a couple miles from the motel but you will have a crazy and memorable drive (15 Mies – Estimate time 1 1/2 Hours)
4 P.M. NASHVILLE EARLY BRONCO – Begin Live feed from the SuperCel
4:30 – 7 P.M. EVENT DINNER available with your meal Tickets at the Food Trucks. (you can buy meals from food truck if you have no meal tickets)
5 – 8 P.M. BRONCO SHOW N SHINE (You will not have to move your Bronco) The Show N Shine will be judged from the regular event field.
8 P.M. – Smoky Mountain Rod Run in Pigeon Forge – Venture over and experience on your own.
8:30 P.M. Friday Night Bon Fire
10:00 P.M. Show Field is Closed and Locked to all in or out traffic
Saturday April 21
BRONCO CRUISE IN
8 A.M. Show Field Opens
10 A.M. – 3 P.M. Food Trucks On Site
11 A.M. NASHVILLE EARLY BRONCO – Begin Live feed from the SuperCel
1 – 2 P.M. Group Aeriel Photos
2:30 P.M. Bronco Awards Presentation
3:00 P.M. Bronco Product Raffle
4:30 P.M. Drive #8 The annual CADES COVE drive (35 miles – estimate 2 hours)
8:30 P.M. Bon Voyage Bon Fire